Base After Base is the fifth level of Geometry Dash and Geometry Dash Lite and the first level with a Hard difficulty.
Description
Base After Base maintains a similar difficulty to Dry Out.
A single ship sequence from 53% to 69% and an antigravity cube segment from 71% to 85%.
Secret coins
The first secret coin is located at 22% and collected as the cube. After hitting a jump ring suspended over three spikes, slide across two platforms and down through an exposed section of a large column that will lead to the coin and a jump pad.
The second secret coin is located at 47% and collected as the cube. After passing beneath two overhead spikes, jump up to the next platform and immediately jump again, clearing a spike to fall into a gravity portal and the coin. Wait as the cube slides up into another gravity portal before returning to the main route.
The third secret coin is located at 67% and collected as the ship. After entering the tunnel and passing three spikes, fly up into a crevice and continue up to the exit, collecting the coin.
Walkthrough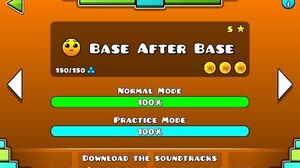 Trivia
Prior to Update 1.9, Base After Base held a Harder difficulty.
Base After Base evolved from the beta level Ultimate Destruction.
Base After Base takes 1 minute and 26 seconds to complete and requires a minimum of 103 jumps.
Gallery
Ad blocker interference detected!
Wikia is a free-to-use site that makes money from advertising. We have a modified experience for viewers using ad blockers

Wikia is not accessible if you've made further modifications. Remove the custom ad blocker rule(s) and the page will load as expected.