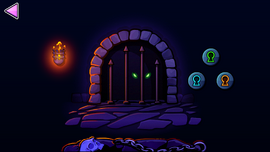 The Basement is a feature of Geometry Dash and Geometry Dash World. Introduced in Update 2.1, it is located inside the Vault of Secrets from a door in the lower-right corner.
To gain access to The Basement, the player must have unlocked the Vault of Secrets and complete The Challenge. Upon beating the level, the Keymaster will claim he has an award for the player and prompts them to access The Basement.
Description
The basement has a dark purple background with a locked cage, an animated torch on the left, and a chest at the bottom-right corner. Once the player goes in the basement after a few seconds
a pair of green glowing eyes appears inside the locked cage, revealing a monster that was locked inside the cage by RobTop; the creature requests that the player frees them in exchange for a reward. Once the player has spoken to the creature, he will show you the three locks which are blue, green and orange. Selecting a lock will make the creature give a hint on how to get the key.
The green key is part of a reward of the first golden chest inside the Treasure Room, which is unlocked once 50 Chests are opened.
The orange key is gained once the player opens the chest inside the Chamber of Time.
The blue key is received as a reward once the player beats the "Chaos Gauntlet" inside the Gauntlets.
Gallery
Ad blocker interference detected!
Wikia is a free-to-use site that makes money from advertising. We have a modified experience for viewers using ad blockers

Wikia is not accessible if you've made further modifications. Remove the custom ad blocker rule(s) and the page will load as expected.