Clutterfunk is the eleventh level of Geometry Dash and Geometry Dash Lite and the second level with an Insane difficulty. This level awards 300 Mana Orbs on completion.
Description
Clutterfunk introduces size portals, spinning saw blades and lots of decorations. The level starts off as the cube from 0%-28%, while under the effects of the mirror portal from 4% to 6%, and mini from 15%. Subsequently, a ship segment from 29% to 35%, and then a ball segment from 36% to 52%, all under the effect of the mini-portal. Through 53% to 67%, another ship segment appears and until 61%. A second cube segment appears from 68% to 100%.
Secret Coins
The first secret coin is located at 30% and is collected as the ship. After switching from a mini cube into the ship, players must aim to carefully fly just above the 5th obstacle to reach the coin.
The second secret coin is located at 65% and is collected as the ship. After the ship switches gravity, the player must aim low and avoid the saw blade and carefully go through a 1-block wide opening to get the coin. A light tap is required to drop to the saw blade on the bottom.
The third coin is located at 85% and is collected as the cube. The player must fall past the last yellow jump ring and jump along a tight path to grab the coin. Tapping a blue jump ring rebounds the player to the normal path.
Walkthrough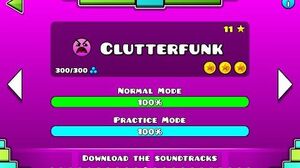 Trivia
Clutterfunk formally introduces the mini-spike, although they were previously found in Stereo Madness, Jumper, and xStep as part of collecting secret coins.
The ship awarded for completing Clutterfunk in normal mode can be obtained in the Lite version by completing 4 levels in normal mode.
The cube awarded for completing fifty online levels in normal mode is obtained in the Lite Version by completing Clutterfunk.
Clutterfunk and Electroman Adventures are the only levels to reward a ship in normal mode.
Clutterfunk is the only level to end in the combination of mini-cube.
Clutterfunk takes 1 minute and 39 seconds to complete and requires a minimum of 125 jumps.
Clutterfunk is the only official level to start with a different Transition Trigger other than the usual one, in which the blocks simply fade into and off of the screen
Like Polargeist and Fingerdash, the song has a long begining cut, going about 42 seconds into the song.
This makes the song the longest song with a cut.
Gallery
Ad blocker interference detected!
Wikia is a free-to-use site that makes money from advertising. We have a modified experience for viewers using ad blockers

Wikia is not accessible if you've made further modifications. Remove the custom ad blocker rule(s) and the page will load as expected.