Cycles is the ninth level of Geometry Dash and Geometry Dash Lite and the third level with a Harder difficulty. This level awards 250 Mana Orbs on completion.
Description
Cycles introduces the ball form. Misleading jump pads and rings leading to hazards as well as triple spike arrangements are prominent during the first cube sequence. The single ship sequence involves rapidly alternating gravity. A cube sequence takes place from 0% to 36%; a ball sequence from 36% to 54%; a ship sequence from 54% to 71%; a cube transition sequence from 71% to 74%, and a ball sequence from 74% to 100% while under the effects of the mirror portal from 74%, ceasing at 82% and continuing at 91%.
Secret Coins
The first Secret Coins is located at 42% and collected as the ball. After clearing the first two obstacles, roll through a gap above spikes and flip once clear to collect the coin, rolling down to return to the main route.
The second secret coin is located at 63% and collected as the ship. After alternating gravity seven times, fall up to collect the coin before flying down to clear the oncoming wall.
The third secret coin is located at 87% and is collected as the ball. After returning to the right direction of travel, after flipping onto a platform with a jump pad at its edge, flip early down and back up past the jump pad and through a crevice between spikes. Flip down from the ceiling, slide down onto the topside of a platform, flip up to the ceiling to collect the coin and immediately back, rolling over a gap across the topside of a narrow spiked platform. By its edge, flip up and back from the ceiling once more onto the topside of a platform, sliding down to return to the main route.
Walkthrough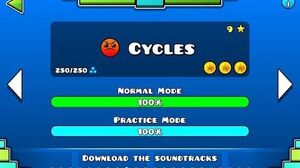 Trivia
Cycles originally held an Insane difficulty until Update 1.9.
The second cube sequence is the only sequence in an official level that does not require any action to be performed.
Cycles is the only level to end with ball form and also under the effects of the mirror portal.
Cycles and xStep are the only levels to reward icons in practice mode.
Cycles takes 1 minute and 23 seconds to complete and requires a minimum of 94 jumps.
Gallery
Ad blocker interference detected!
Wikia is a free-to-use site that makes money from advertising. We have a modified experience for viewers using ad blockers

Wikia is not accessible if you've made further modifications. Remove the custom ad blocker rule(s) and the page will load as expected.