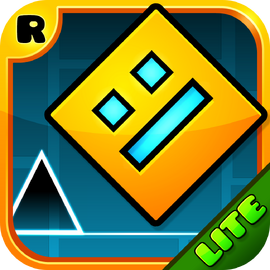 Geometry Dash Lite is the free ad-supported lite version of Geometry Dash for iOS and Android. It includes thirteen levels from the full version (partly corresponding to those from Update 1.6), with limited achievements, icons and collectibles. Everyplay and the ability to transfer certain unlockable data over to the full version through user accounts are also available.

Levels
Full version comparison
Update log (iOS)
The following table contains the official update information provided by the iOS App Store, only omitting secondary information such as support notices.
Version
Date
Description
1.0
12 September  2013
-
1.11
4 October 2013

Added Everyplay support. You can now record and share your replays with friends!
Bugfixes and tweaks.

1.12
15 October 2013
1.2
21 October 2013

New FREE level "Back On Track"!
Bugfixes and tweaks.

1.3
5 November 2013

New FREE level "Polargeist"!
Unlock new characters and colors!
Achievements and rewards!
Bugfixes and tweaks.

1.4
26 November 2013

New FREE level "Dry Out"!
Unlock a new character and color!
Bugfixes and tweaks.

1.5
31 January 2014

New Achievements and rewards!
Updated ship art.
Bugfixes and tweaks.

1.6
21 March 2014

New level "Base after Base"!
Record and share replays!
New Achievements and rewards!
Bugfixes and tweaks.

1.61
4 April 2014

Fixed bug on devices running iOS 5
Bugfixes and tweaks

1.7
22 May 2014

New level "Cant let Go"!
Collect secret coins on ALL levels!
New Achievements and rewards!
Bugfixes and tweaks.

1.71
4 June 2014
1.8
12 August 2014

New level "Jumper"!
New Achievements and rewards!
Bugfixes and tweaks.

1.921
6 February 2015

New level "Time Machine"!
New achievements and rewards!
Account system
Bugfixes and tweaks

2.0
23 October 2015

New level "Cycles"!
New achievements and rewards!
Bugfixes and tweaks

2.1
5 January 2016

New level "xStep"!
New achievements and rewards!
Bugfixes and tweaks

2.11
21 December 2016

New level "Clutterfunk"!
New achievements and rewards!
Bugfixes and tweaks

2.12
20 November 2017

iPhone X support!
New level "Theory of Everything"!
New achievements and unlocks!
Bugfixes and tweaks

2.2
22 December 2017

New level "Electroman Adventures"!
Bugfixes and tweaks