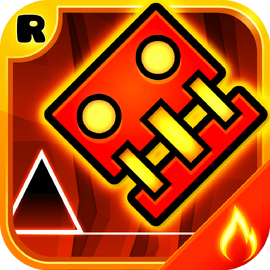 Geometry Dash Meltdown is a free ad-supported expansion app of Geometry Dash developed and published by RobTop Games and released on December 19, 2015 for iOS and Android. It features three exclusive levels, achievements, icons, limited collectibles, Everyplay, and the ability to transfer certain unlockable data over to the full version of Geometry Dash through user accounts.

Levels
Gallery and trailers
Trivia
Although Robert Topala stated that there would be "five brand new and free levels" in Geometry Dash Meltdown, only three levels were initially released. The Coming Soon screen tooltip states that "There will be more levels, but are you prepared?".
The Icon Kit resembles that of the full version although many rewards cannot be unlocked as a result of the limited content. Moreover, certain rewards have different unlock requirements.
The ship shown on the game's cover image cannot be unlocked.
Stars do not serve any purpose with no related achievements.
Geometry Dash Meltdown includes achievements for collecting all three secret coins in levels, a feature exclusively associated with Demon difficulty levels in the full version.
It is possible to access the Vault by loading a save with it unlocked, although entering codes will not successfully unlock rewards and the background music does not play.
When asked on TouchArcade whether the Meltdown levels would be added to the official game when loading Meltdown save data, Topala replied, "Maybe in the future, but for now you can only play them in meltdown. But you will be able to transfer icons etc."
Ad blocker interference detected!
Wikia is a free-to-use site that makes money from advertising. We have a modified experience for viewers using ad blockers

Wikia is not accessible if you've made further modifications. Remove the custom ad blocker rule(s) and the page will load as expected.