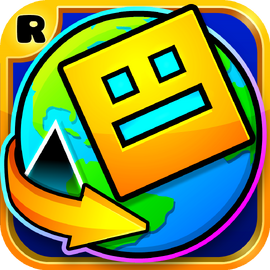 Geometry Dash World is an expansion app of Geometry Dash developed and published by RobTop Games and released on December 21, 2016 for iOS, and on December 22, 2016 for Android devices. It features ten exclusive levels, split into worlds containing five levels each. It also includes a new parental control, new achievements,icons, General Collectibles and the ability to transfer data over to the full version of Geometry Dash through user accounts have also been introduced. In addition, players can play a limited number of custom levels, either by playing the Daily Level or accessing the Featured Levels page. It contains many features from Update 2.1 that were leaked before the release of said update.
Levels
Secret Levels

| Level | Stars | Released | Composer | Soundtrack |
| --- | --- | --- | --- | --- |
| 1. The Challenge | 3 | Initial Release | RobTop | |
Gallery and trailers
Trivia
This is the second free expansion for the main game, the first being Geometry Dash Meltdown.
The island in the Coming Soon screen is a completely greyed down version of the Dashlands island.
Unlike Geometry Dash Meltdown, the old Vault is fully functional in Geometry Dash World, with all the codes and their unlockables working just like in the full version.
The level used in the trailer is Monster Dance Off.
All of the levels (including The Challenge) are about 30 seconds long
Ad blocker interference detected!
Wikia is a free-to-use site that makes money from advertising. We have a modified experience for viewers using ad blockers

Wikia is not accessible if you've made further modifications. Remove the custom ad blocker rule(s) and the page will load as expected.