The Challenge is a secret level playable in Geometry Dash World and Geometry Dash. It is the first level not to follow a chronological order among the official levels and features a number of Update 2.1 mechanics and objects, including the spider and dash orbs before said update was officially released.
Description
The Challenge is a very simplistic level, having no aesthetic color changes in the entire level and almost no decorations. The level first introduces the player to the dash orbs, then later showcases the spider gamemode. A smiley will appear at the end of the level.
To unlock this level, the player must go to the Vault of Secrets (50 diamonds). The player must type in "The Challenge", and then collect 200 diamonds to unlock this level. Once completed, the player gains access to the Basement which also contains a chest with a new icon.
Trivia
The song used in the level is Random Song 06 by RobTop (formerly Zhenmuron) on Newgrounds. In the game files, however, it is called DJRubRub.

This also makes the level name different from the song name.
This is the shortest official level, being the only one in Geometry Dash to be of medium length.
Although the level officially doesn't give any kind of Icon, you can get a icon from the Basement that unlocks after you beat the level.
The Challenge takes 27 seconds to complete and requires a minimum of 21 jumps, if you hold the green dash arrow, both in the normal and spider mode.
If the player taps twice quickly the start button for playing The Challenge, it may glitch and the player won't be able to jump, also if the player tries to go back, the game will crash
Walkthrough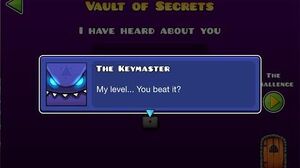 Ad blocker interference detected!
Wikia is a free-to-use site that makes money from advertising. We have a modified experience for viewers using ad blockers

Wikia is not accessible if you've made further modifications. Remove the custom ad blocker rule(s) and the page will load as expected.