Theory of Everything is the twelfth level of Geometry Dash and the third level with an Insane difficulty. This level awards 325 Mana Orbs on completion.
Description
Theory of Everything introduces the UFO form, which ascends every time the player taps, pink jump pads and rings that provide less vertical ascension than yellow jump pads and rings, arrow, question mark and exclamation mark decals, and new decorations. It is one of two levels to end in a mini ship, the other being Clubstep.
Secret Coins
The first Secret Coins is located at 30% and is collected as the UFO. There is a 5 block column hanging from the ceiling, with three non-solid blocks forming a gap in the middle. The player must tap multiple times to pass through the non-solid blocks, while also evading two saw blades and the spikes on the ceiling to get the coin.
The second secret coin is located at 56% and is collected as the ship. The player needs to carefully slide under the three spiked block. Upon success, the player shall collect the coin and go back to the normal path.
The third secret coin is located at 83% and is collected as the cube. When the player reaches the long curved slab, avoid the yellow jump pad by jumping over it which will bring the player into the coin, followed by two alternative yellow pads, followed by a jump ring.
Walkthrough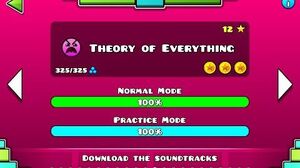 Trivia
Theory of Everything formally introduces the touch trigger background changer, pink jump pad, and the pink jump ring, although they were previously found in Stereo Madness, Can't Let Go, and Time Machine as part of collecting secret coins.
Theory of Everything was featured in the Geometry Dash Steam Trailer.
Theory of Everything is the only main level to have a sequel.
Theory of Everything takes 1 minute and 26 seconds to complete and requires a minimum of 79 jumps.
Gallery
Ad blocker interference detected!
Wikia is a free-to-use site that makes money from advertising. We have a modified experience for viewers using ad blockers

Wikia is not accessible if you've made further modifications. Remove the custom ad blocker rule(s) and the page will load as expected.