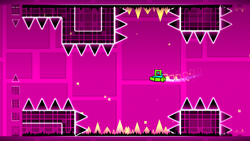 Update 1.1 was the first update to Geometry Dash released on 14 September, 2013. It introduced Time Machine, the ability to comment on user levels, two new cubes, (1) in Android and one new white colour.
Update 1.11 was later released on 4 October, 2013, which introduced Everyplay integration for easy recording of mobile gameplay. Geometry Dash Lite soon after received the feature. Upon its release, Everyplay failed to work on several devices, but compatibility has since been added.
This update also prevented users from completing a level in practice mode to verify it.
This update also removed most of the levels that have been completed with the "practice mode bug".
Introductions
New level "Time Machine" with a new soundtrack!
New game mechanic, mirror mode!
Added ability to comment on user levels.
New unlockable character and colour!
Lots of bug fixes, tweaks and improvements!
v1.11
Added Everyplay support. You can now record and share replays with friends!
Bug fixes and tweaks.
v1.12
On 15th October, 2013, Geometry Dash Lite was updated to 1.12 with the following:
Sneak peek
Ad blocker interference detected!
Wikia is a free-to-use site that makes money from advertising. We have a modified experience for viewers using ad blockers

Wikia is not accessible if you've made further modifications. Remove the custom ad blocker rule(s) and the page will load as expected.