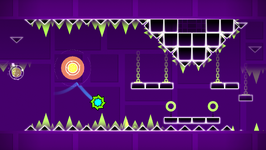 Update 1.2
was the second update to
Geometry Dash
 and it was released on October 21st, 2013. It introduced
Cycles
, two new
icons
and a new form, the ball.
Introductions
New level, Cycles!
An all new game mechanic, Ball!
New achievements and rewards!
Bug fixes and tweaks.
Geometry Dash Lite Introductions
On October 21st, 2013, Geometry Dash Lite was updated to 1.2 with the following:
Ad blocker interference detected!
Wikia is a free-to-use site that makes money from advertising. We have a modified experience for viewers using ad blockers

Wikia is not accessible if you've made further modifications. Remove the custom ad blocker rule(s) and the page will load as expected.