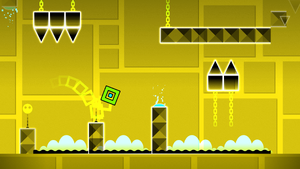 Update 1.3 was the third update to Geometry Dash released on 20 November 2013. It introduced xStep, a leaderboard system, stars, demons and ten new icons.
Introductions
New level "xStep"!
New leaderboard system. Complete levels and rise in the charts!
New level details, effects and more!
10 new characters and Achievements!
Bug fixes and tweaks.
Insane Difficulty
Demon Difficulty
Geometry Dash Lite introductions
On 5 November 2013, Geometry Dash Lite was updated to 1.3 with the following:
New FREE level "Polargeist"!
Unlock new characters and colours!
New achievements and rewards!
Bug fixes and tweaks.