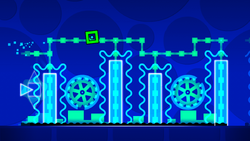 Update 1.7
was the seventh update in
Geometry Dash
. It was released on 21 May 2014. It introduced
Electrodynamix
, a new colour mechanic, new backgrounds, a new difficulty: auto, a rainbow trail, a glow feature, four new
cubes
, two new ships, three new balls, and two new UFOs.
Introductions
New level "Electrodynamix"!
New speed mode (slow, normal, fast, very fast).
Lots of new art and effects.
New unlockable rainbow effect.
New unlockable icons, ships, gravity balls, and UFOs.
New colour.
Performance improvements.
New search filters to make finding maps easier.
New map packs.
Option to allow other users to copy your online levels (for remixing and sharing levels).
New tab system for faster building in editor.
Lots of other improvements, tweaks and bug fixes!
1.71
Geometry Dash Lite Introductions
On 28th May 2014, Geometry Dash Lite was updated to 1.7 with the following:
New level "Can't Let Go"!
New achievements and rewards!
Bug fixes and tweaks.
Trivia
There is a reverse 2x speed portal coloured orange in one of the pictures. However, such a portal does not exist in the game. Also, it is possible to be an earlier design for the slow speed portal.
This update introduces the normal speed and slow speed portals to the level editor, though they did not make an appearance to Electrodynamix, instead their formal appearance was in Hexagon Force, which was added as part of Update 1.8.
There is a ball in the second picture that was never added.

Therein, the Demolicious! icon does not accurately resemble what it looks like currently.
Sneak Peek
Gallery
Ad blocker interference detected!
Wikia is a free-to-use site that makes money from advertising. We have a modified experience for viewers using ad blockers

Wikia is not accessible if you've made further modifications. Remove the custom ad blocker rule(s) and the page will load as expected.