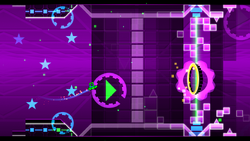 Update 1.9 is the ninth update to Geometry Dash. It was released on 9th November 2014. It introduced two new levels, Blast Processing and Theory of Everything 2, a new user account system to save progress, ability to select custom music from Newgrounds for custom levels, four new colours, four cubes, and a new gamemode, the wave. It also downgrades the difficulty levels for the first 9 levels, excluding Stereo Madness.
Downgraded levels
Back on Track: Normal → Easy
Polargeist: Hard → Normal
Dry Out: Harder → Normal
Base After Base: Harder → Hard
Can't Let Go: Insane → Hard
Jumper: Insane → Harder
Time Machine: Insane → Harder
Cycles: Insane → Harder
Introductions
New level "Blast Processing".
New Demon level "Theory of Everything 2".
New "Wave" game mode.
New music system. Build and share levels using custom music from Newgrounds.com.
Backup system. Store and sync your progress between devices and platforms.
User account system.
New achievements, colours and icons.
New decorations and level objects.
Customize the colour of objects in the level editor (including 4 custom colour channels).
Colour coding in [the] editor to make different objects more clear.
New search options.
Improved server performance for downloading levels.
Level editor object limit increased to 15,000.
Bugfixes, tweaks and improvements.
Update 1.91
Update 1.911
Update 1.921
New performance option that can reduce lag on some devices Go to "options/smooth fix" to enable.
Added group features to level editor
Max objects increased to 20,000.
Bugfixes and tweaks.
Update 1.93
Geometry Dash Lite introductions
On 5 February 2015, Geometry Dash Lite was updated to 1.91 with the following:
New level "Time Machine"!
New achievements and rewards!
Account system.
Bugfixes, tweaks and improvements.
Trivia
Blast Processing's trailer had some decoration changes from the final version.
This update did not include any new map packs, making it the first update to do so after Update 1.6 added the first map packs.
The song Theory of Everything 2 was a collaboration with DJ-Nate and F-777, making F-777 not a new song artist to have his song be in a main level.
The wave form was previously known as the 'dart'. RobTop changed the wave's name to 'dart' again in 2.0, but changed it back to 'wave' due to the complaints issued by the community.
TheRealDarnoc released an insane 9★ level, Wave Wave, which was a fan made level in UFO. This level used blue orbs, and the gameplay represents the waves movements.
A rumour spread on the YouTube clip showcasing Cash Cash Overtime, displays comments saying that the music brings back 1.9 memories in Geometry Dash. It is however unknown why, but one theory is that the level OverTime by DestiCy, a 1.9 level that uses a copyrighted version by Sagginss, is the reason.
Sneak peeks
Gallery