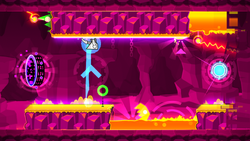 Update 2.1 is the eleventh official update to Geometry Dash. It was released on the 16th January 2017 for Steam, and on the 18th January for iOS, Android and Amazon. This update introduced one new main level, Fingerdash, the spider game mode, new jump orbs, dash orbs, custom gameplay orbs, red jump pad, a red 4x speed portal, 2 new shops, 3 new vaults (Vault of Secrets, Vault, and Chamber of Time), daily rewards, shards (fire, ice, poison, shadow, lava and bonus), lots of new editor features, mana orbs, diamonds, vault keys, demon difficulties, the epic ranking, Gauntlets, Hall of Fame, quests, daily levels, death effects, more commenting features, options, optimizations, many new icons, colors, and many more features and secrets.
Introductions
New level "Fingerdash"!
Spider gamemode!
44 new icons!
10 new ships!
11 new balls!
10 new UFOs!
10 new waves!
11 new robots!
Lots of new gameplay objects!
Collect new rewards!
Quests!
Daily levels!
Lots and lots of new art
Lots of editor improvements
Lots of bug fixes
More secrets...
Two vaults added!
New icons
Unlisted option for user levels (bugged)
Twitch and Twitter links for your account
Epic ranking
Hall of fame
More options
Death Effects
The Lost Gauntlets
Diamonds and Mana Orbs
Demon Ratings
And more...
2.11
Description
Update 2.11 is here!
This update will function like a smaller "pre-update" before 2.2. Lots of fun stuff planned :)
iPhone X support!
New icons and effects!
New community shop!
Weekly Demon challenge!
Folders and level sorting!
New demon chests!
Level leaderboards!
Crystal Gauntlet!
Doom Gauntlet!
Spike Gauntlet!
Random other fun stuff.
Lots of bugfixes and tweaks
There was an item duplication bug in version 2.1 that gave users extra rewards. This has been fixed in 2.11 and those rewards have been removed. So if you lose shards/diamonds etc after loading 2.11 it's because they were bugged. Sorry :/
Fixed unlisted levels not showing up in the "My levels tab"
/RubRub
Features
Community Icons, as well as a community shop
New icons and death effects
Folders and level sorting
Level leaderboards
Treasure room chests that cost 5 keys
Improved commenting system for user-made levels
Weekly demon feature
Community-made icons for sale in secret shop/normal shop
Group items to act as one in level editor
Minor changes
Moderator icons next to Moderators' names

You can now "favorite" levels

View others' comments from their profile
Bugs
A Parental Control feature, known as "Only Allow Featured Levels" has a glitch that's instead of disabling search, it disables the map packs button.
Geometry Dash Lite introductions
On 5 January 2016, Geometry Dash Lite was updated to 2.1 with the following:
On 21 December 2016, Geometry Dash Lite was updated to 2.11 with the following:
On 22 November 2017, Geometry Dash Lite was updated to 2.12 with the following:
iPhone X support!
New level "Theory of Everything"!
New achievements and unlocks!
Bugfixes and tweaks!
Trivia
In 2.0, the "Coming Soon" information displayed text reading "Just don't scroll too far, there is a darkness coming." In 2.1, the same text reads "The darkness lingers. Be careful who you trust..."

This likely relates to the "Invasion" and The Creature (possibly the Demon Guardian) that lingers in the basement of the Vault of Secrets.

The icons that are featured in the second sneak peek picture are only 2 of the many icons that can be unlocked in Geometry Dash Meltdown. This is related to an upcoming feature in which Meltdown icons can be synced to the full version with a player's account.
Update 2.1 has the most sneak peeks out of any other update so far.
Update 2.1 currently has the longest amount of time between two update teasers. The time between the second 2.1 WIP image (29th October, 2015) and the 2.1 song hint (2nd January, 2016) was over two months.

This might be due to the release of the "secret project (i.e. Geometry Dash Meltdown)" and Geometry Dash Meltdown being released between these two dates (19th December, 2015).

RobTop stated before 2.0 that he would focus on making future updates only take 1-2 months. However, it has been over a year since Update 2.0 was released on the 26th August 2015 giving it the longest development time out of any other update.

This was probably due to the release of Geometry Dash Meltdown and Geometry Dash World in between the two.

Update 2.1 is the third consecutive update to feature a new game mode, with Update 1.9 introducing the wave and Update 2.0 introducing the robot.
Update 2.1 contains the most new gameplay elements (orbs, pads and a new gamemode).
In a Geometry Dash World exploit, it was first discovered that the dash orbs will have a different shape that is more arrow-like than in the sneak peek. The red dash orb will also be colored pink. This was applied to the actual update.
Update 2.1 has currently the longest sneak peek at 37 seconds.
Both the "Geometry Dash Spider" and "Small lava test" videos on RobTopGames' YouTube channel are unlisted.
The lava blocks from the second and fourth WIP image are different than the lava blocks from the sneak peek. This could be because RobTop re-designed some art he was not satisfied with, as stated by him previously.
In the "Small lava test" video, the new icon (Uber Hacker) is a fanmade icon that was carried over from the Purpura Texture Pack.
2016 is the first year where no updates to Geometry Dash were released.
Update 2.1 has introduced the most vaults and orbs out of any update.
Previews
26th May, 2015: RobTop makes his first mention of on TouchArcade, saying "I wanted to mix up the art style a bit, keep things fresh. More craziness in 2.1!". Because of this statement, it is assumed that there will be new decorations and blocks.
22nd September, 2015: RobTop enters Zobros' stream on twitch.tv and sets up a Q&A.[1] He mentions that a new jump ring will be added, as well as a new anti-cheat system that allows the game to take progress (stars) from the player's stats when they use hacks and cheats to add an unfair advantage in the game.
30th September, 2015: RobTop posts the first teaser for the update. The image shows a new four-legged gamemode, resembling a spider. [2]
29th October, 2015: RobTop posts the second 2.1 teaser picture on Twitter. It shows two new icons (which are unlockable in Geometry Dash Meltdown) and new volcanic blocks.
9th November, 2015: RobTop replies to a question on TouchArcade, stating that there will not be a demon-rated level in 2.1. He also says he will try to release 2.1 before the end of 2015.
13th November, 2015: RobTop enters dak2014's stream on Twitch and initiated a "Questions and Answers" activity. He says that a secret project (Geometry Dash Meltdown) will come out before 2.1, and he hopes that they will both come out before Christmas. He also mentions that 2.1 will not be a big update. Additionally, he states that a few of the new features of 2.1 will be a new gamemode, a new gameplay ring (previously stated on September 22nd), a new level with new music by a new composer, bug fixes, and small extra features.[3]
1st December, 2015: RobTop states in an unknown Twitch user's chat that the new secret project (Geometry Dash Meltdown) will contain icons transferable to Geometry Dash by the press of a button. However, Geometry Dash-exclusive icons can not be transferred to the new app.
16th December, 2015: In Cyclic98's Twitch stream, RobTop mentions that the 2.1 song teaser will be released after Geometry Dash Meltdown comes out.
2nd January, 2016: posts the third 2.1 teaser on Twitter and Facebook, which hints the soundtrack for the new level. The teaser depicts a gray Mario sprite and a gray Donkey Kong sprite. On the right, the teaser shows an orange outline of an index finger pointing up and a radioactive symbol. Based on this, it is assumed, and confirmed on April 16, 2016, that the song is Fingerbang by MDK.
5th January, 2016: 2.1 was added to Geometry Dash Lite with a new level, xStep.
27th January, 2016: RobTop says on TouchArcade that a new vault will be added in 2.1. He also says that there will be two types of rotation for the rotation trigger: to spin around an axis or to spin around the target.
4th February, 2016: RobTopGames posts the fourth 2.1 teaser on Twitter, Facebook and TouchArcade, and says that the 2.1 level sneak peek is almost ready. The image showcases a bat/dragon-like monster (which could be new "monsters", and be a threat to the player) a new background, a new waterfall decoration, new stone blocks and a new blue diamond decoration, which could have some gameplay function. RobTop also apologizes on Facebook for being a bit slow.
9th February, 2016: On Krazyman50's stream on Twitch, RobTop provides a link to a picture of the 2.1 level editor. The picture displays a new interface for selecting colours, using three bars for hue, darkness, and brightness of the colour. also mentions the possibility of a new rating system, where each level is rated on 1 to 10 out of different categories. He states: "In a new rating system you would have rating scores for different areas. So 1-10 for visual, 1-10 for gameplay, etc." He also confirms that the new blue diamond shown in the last teaser will have some gameplay function and will not be just a decoration.
21st February, 2016: RobTop uploads "Fireballs?" on his YouTube account, which shows off more new upcoming features from this update. The first of many features depicts rotating fireballs around a block, confirming that there will be a rotation trigger in 2.1. Then there is the bat/dragon-like monster, which is animated and shoots a fireball from its mouth horizontally. After that is an animated waterfall, followed by an invisible outline of a square. Next is another bat/dragon-like monster, which is animated and is seen shooting a fireball from its mouth diagonally. A new dark purple-coloured portal is seen next, which is likely the portal for the new spider gamemode. A new ground and a new background are also seen, and new rock decorations as well as particle decorations that are scattered throughout the level, hinting at a new particle editor (something that RobTop mentioned previously). Finally, an image of what likely could be the new vault appears. The new music that could be for the new vault plays throughout the whole video and is not the level's song, as the music continues after the gameplay.
28th February, 2016: On Xaro's Twitch Stream, RobTop states that there will be exactly 3 new jump rings in 2.1. Two have gameplay functions (like all pre-2.1 rings), and one is a custom ring. He also explains that jump rings like "kill orbs" will be possible, as the custom ring works like a trigger.
4th March, 2016: During GDSkitten's stream on Twitch, RobTop shares more insight on what 2.1 will bring, sharing how you can control the animation of some monsters, and tells about a possible "touch" and "count" trigger. He also mentions a possible collision trigger, saying that the player could shoot objects, but probably will not be included with 2.1 - maybe 2.2. Lastly, he says that Geometry Dash Meltdown will be updated after 2.1 with a new level, and a new collaboration system could be implemented after that as well.
16th March, 2016: RobTop confirms that the new indigo coloured portal at the end of the Fireballs? video is for the new "spider" gamemode.
24th March, 2016: After entering GironDavid's stream on Twitch, RobTop mentions 4 new orbs, and that one will be a custom trigger orb. He also states that there are possibilities for a new challenge mode, and the reason why 2.1 got delayed was because he had to remake some features since he did not like the way they looked. He continues to say that the new "spider" gamemode is finished (confirming it will be called "spider mode"). RobTop goes into detail about the orbs, stating that one of the orbs is a variation of a current orb, not the green one, and that one orb will work like a "toggle" trigger if tapped. He restates that the other two orbs are gameplay balls.

Later, RobTop enters Riot's stream and mentions that there will be a sneak peak. He also mentions making extensions to the featured section. There will be a 2.1 daily feature, and there will be a special featured spot for the level that gets featured. He says that the level must be rated and that if completed on that day, diamonds would be awarded, which unlock icons and achievements. RobTop finally says there will also be three new skins for keys.
30th March, 2016: On GuitarHeroStyles' Twitch stream, RobTop posts a link to an image depicting a pink fire-like trail around the player. He also mentions he may raise the object limit to 35k (by 5k). Later, on TouchArcade RobTop mentions that the sneak peak is soon to come and that he is working as fast as he can on the update. He also mentions that the level will not be named after the song Fingerbang, that you can change the colour of the fireballs, and that the custom trigger orb is just like the triggers we already have, but they need a jump ring for activation. It is mentioned that the epic colour is being added, but it is tricky (implying it will take time), that he will consider a favourite level list, and that he might do a shorter sneak peak of the level, and then make another video showing off the spider. He also says in a private conversation during GuitarHeroStyles' stream that "Live multiplayer" may not be added.
6th April, 2016: On Xaro's Twitch stream RobTop says that he has added a new "auto-building" system for the new stone blocks since they can be pretty complicated to build. He mentions that the sneak peek is getting close and that the new orbs will be revealed in the sneak peek. He also says that there might be different ways to earn diamonds besides the daily featured level.

Later, on RioT's stream, RobTop mentions that there will be a block that the wave can slide on, and visual lines in the editor that show when an effect ends, that the art has been tweaked a lot, the sneak peak is very original and different from the "Fireballs?" video, and that there may be a new system in which you can add your own art. This system will require verification as photos added into the game must be appropriate. Afterwards, RobTop says the fireball is a gameplay effect.
9th April, 2016: In ASonicMen's Twitch stream, RobTop states that he has made a function where when pressed, it automatically changes the group of an object(s) to the next free group. He then goes onto TouchArcade and informs that there will be no option to cut or crop songs in 2.1, but maybe in the future. Later on, he joins Manix648's stream and says that object limit hacks will no longer work in 2.1 and the object limit has been raised to 40k.
10th April, 2016: In Sandstorm's Twitch stream, RobTop says that will have achievements for 8 and 9 star levels, that there will be new demon packs (possibly before 2.1), that the new level will have around 12 stars, that there will be more icons for beating online levels, possible emotes for the comment section, and a top comment sorting option. He also says that all verify hacks, object limit hacks, etc. will be banned in 2.1 and that there will be new user coin achievements. RobTop also stated that he will not be working on any more ports to other operating systems for Geometry Dash, he referred it as "a lot of boring work."
13th April, 2016: On Mazl's Twitch stream, RobTop explains how a challenge mode could work if implemented. He says that one player would challenge another on a randomly selected level with a chosen amount of stars. The player who beats the level in the least attempts, or gets the most percentage in a set amount of attempts is the winner. By winning, you climb the "global ladder" and gain a rank. He also said that there may be unlockable practice songs in 2.1.
14th April, 2016: On Riot's Twitch stream, RobTop says there may be a challenge mode, and that he indeed explained it the day before. He also confirms mini icon customization. He also says that he is working on the sneak peek, and that it is very close.

Later, on an unknown twitch stream, RobTop confirms that one of the new orbs added will kill the player.
16th April, 2016: RobTop releases a sneak peek, confirming the song as Fingerbang by MDK. It showcases 3 new orbs — a dark gray one, (which acts like the blue orb but does not switch the player's gravity), a triangular lime one (which may force the player along the lime trail for as long as they hold down) and a triangular red one (which forces the player forward so long as they hold down and then switches the player's gravity). The red orb may create a grayscale effect which turns everything on the screen (the player included) to black and white for a split-second, but this could just be a colour change or a new color trigger. There are decorational signs showing different icons. It showcases the new "spider" game mode, which appears to act as a ball, but with instant teleportation which appears to flash upon touch. The sneak peek also shows a new red jump pad which acts similar to the pink and yellow jump pads, but with a larger boost (around 6-7 blocks). It shows new decor such as blocks and signs, a new cube icon and a new shake effect. It has an extension to the animated dragons added in 2.0, showing one with its mouth wide open, and the other one with fire coming out (unlike the default movements, where the dragons just open and close their mouth repeatedly). It also showcases the new rotation trigger and the new monster manipulation mechanic. There is a new laser beam hazard that is made of zig-zags. It has actual lava seen rising, which isn't the 2.0 water decoration as a red/orange color. The black bat/monster hybrid is featured too. Once putting the trailer in higher quality, it appears that the spikes in the rocks appear to shine since the particles from the rocks go down the edge of the spike. Finally, around some blocks, there are small, white "star" shaped particles that have an animation. The animation has 4 white triangular beams that separate in different directions and dissolve, and then the animation starts over in the center where the 4 beams moved from before.

He later enters TouchArcade and posts another preview picture, depicting the ball vs. spider movement. It shows some new art for the buttons, and some new buttons such as 'Copy Values', 'Edit Special', 'Paste State' and 'Go To Layer', plus a button with the picture of the background, ground, etc. 'triggers'. These buttons appear to be more Boomlings style - almost resembling the buttons at the bottom of the screen (Rotate, Swipe, etc.)
Later, on Mazl's Twitch stream, RobTop announces some of the new features in 2.1. First, he says that the new level editor object limit in 2.1 has been raised to 40,000 objects. Second, he states that he might raise the custom object limit. Third, he says that he has added an option in the level editor called the "swipe cycle select mode" wherein if you have swipe disabled and tap on a group of objects multiple times, it will cycle what objects are selected. Fourth, he says that there is a new option called "editor hold to swipe" which is mostly for mobile, wherein when not in swipe mode, if you press and hold for a small time, an indicator will show that swipe mode has been activated, and it will now act as if swipe mode is enabled. Finally, he explains how the dash orb works, stating "It goes as long as you hold."
17th April, 2016: On Riot's stream RobTop posts a link to a video showing off blue dash orbs, the spider, and a new icon that resembles the 60 user coins icon. The video is assumed to be "for spider haters" showing how the spider is different than the ball, because at the end of the test level in the video RobTop has text saying "Do that with the ball..." followed by "Kappa". RobTop also says that there will be a secondary object limit of 80k, but it will have a warning icon. He also says it will depend on the amount of RAM the game is using.

The video also confirms that the new dash orbs can be used diagonally (possibly by rotation).
The dash orbs shown in the video are a different color than the ones shown in the sneak peek.
The video was also posted on RobTop's Twitter account on the same day. See post
He states that the game is much more optimized now, and low-end devices will have less lag in levels with many moving objects. RobTop has added another low detail mode that will be in settings.
7 November, 2016: GuitarHeroStyles uploads another video. On RobTop's in-game status, he says "Are you prepared for the "Gauntlets?" I think not... :D". This was later revealed to be "The Lost Gauntlets" when the update was released.
22 November, 2016: Three new images have been added to the boomlings site, where the first image "thing" showcases a new futuristic ship. There is another image named "thing2", which shows a new icon. This icon also appears to have a gradient. The third image, showing a UFO with a cat-like face named "thing3".
5 December, 2016: In SUOMI's latest video, RobTop mentions about 2.1 being out in a few days. He then posts three more new images added to the Boomlings site, "thing4" and "thing5" which are new icons, and "thing6" which showcases what appears to be three colored keys and demon eyes. It was later revealed to be the "Basement" in 2.1.
21 December, 2016: The "free version" of Geometry Dash, Geometry Dash World, is released on iOS. A few days later, it was released on Android. During the time of the update, streamer Aurorus uses an exploit to get early access to the 2.1 editor in World which is normally locked in-game. With the exploit, it was revealed there will be a new speed portal, more tilesets than what was actually shown in the sneakpeek, and the name of the new level will be Fingerdash.

A few days later, hackers found a way to unlock everything in the game, which included the entire Fingerdash level in its development stage, Hall of Fame, The Lost Gauntlets, The Chamber of Time, the 2.1 editor, and all icons normally not accessible in GDW. RobTop later disabled the Lost Gauntlets temporarily.

9 January, 2017: In TrusTa's stream, RobTop mentions that he has reenabled save and load in GDW, which later allowed players to sync their current Geometry Dash World data to the full version of GD in 2.1.
16 January, 2017: RobTop enters Surv's stream and posts in Spanish that "The chicken is ready" as well that 2.1 has been submitted to Steam , Android & for review in Apple store. At 6:30 PST, Geometry Dash 2.1 was released to the public (Steam only), with a bugfix following 2 hours after.

Later, RobTop enters Satcho's stream and he confirmed 20 new icons unlockable from the Shop in a future update.

17 January, 2017: 2.1 is released for Steam.
18 January, 2017: 2.1 is released for IOS, Android and Amazon.
5 February, 2017: The Lost Gauntlets are released to the public, with the Fire Gauntlet and Ice Gauntlet being added.
6 February, 2017: The Poison and Shadow gauntlets are released.
7 February, 2017: The Lava and Bonus gauntlets are released.
8 February, 2017: The Chaos and Demon gauntlets are released.
10 February, 2017: RobTop has tallied out demon ratings for all custom demon levels. Demons will now have appropriate ratings.
21 May, 2017: Robtop announces on Knobbleboy's stream that 2.11 is almost ready.
4 June, 2017: Etzer releases the Icon Contest results. It was confirmed that the 1st place entries will be added in the Community Shop in 2.11.
16 June, 2017: In SUOMI's video, RobTop has plans for more Gauntlets in 2.11. He also mentions that 2.11 will re-enable high-quality textures (for Steam users), and a new "Favorites" folder where players can sort their favorite levels. In response to the abuse of dislike/like/download/rate bots, RobTop has confirmed a new anti-bot system for 2.11.
8th August 2017: RobTop comments on daily levels stating that Update 2.11 will have more stuff to buy in the shops, and more treasures in the Treasure Room.
4th September 2017: RobTop comments on the daily level with the following: "Crystal Gauntlet will be out pretty much at the same time as 2.11" (proof needed)
23 September 2017: Partition posts a video showing how the LDM button works.
29th September 2017: RobTop comments on the daily level with the following: "Yes, Scratch will restock in 2.11 :)"
4th October 2017: RobTop shares links to 3 images of new icons (Which can be seen below) in the daily level.
12th October 2017: RobTop announces that in 2.11, new types of Moderators known as Elder Mods will be available, and they will have more power than regular Moderators, hinting that players can now Star Rate, Feature, and verify Coin Levels. (Proof needed)
27th October 2017: Viprin tweets, "All community icons will be in 2.11. Total cost: 400,000 mana orbs."
4th November 2017: Viprin reveals 4 new images (seen below) for 2.2/2.11 icons on Twitter 3 block icons and 1 spider icon.
6th November 2017: Viprin posts a video of the Doom Gauntlet's result.
7th November 2017: RobTop goes on EricVanWilderman's stream and talks about 2.11. He says that 2.11 is done and still checking for bugs.
12th November 2017: RobTop says that 2.11 is 100% finished and that it should be uploaded to steam today and android later. Later on this day, 2.11 is released for steam and RobTop comments on the daily level: "2.11 on mobile soon. Relax (;"
15th November 2017: 2.11 is released for Android.
16th November 2017: 2.11 is released on iOS. The Crystal Gauntlet is also released.
18th November 2017: The Doom Gauntlet is released.
28th December 2017: The Magic and Spike Gauntlet is released.
Sneak peeks
Gallery
Update 2.1 content previews
Update 2.11 content previews
References