User Accounts
are a feature in
Geometry Dash
 added in
Update 2.0
, but formerly introduced in 1.9.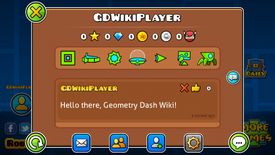 When a player creates a user account, they will be assigned a profile page. A user's profile page showcases their global rank and matching a 
trophy
alongside some of their statistics, which include the player's:
Stars
Diamonds
Secret Coins
User Coins
Demon levels count
Creator points (if any)
The player's current icons are also shown, displaying their current cube, ship, ball, UFO, wave, robot and spider, and are coloured accordingly. Personal messages can be posted in the profile, as shown in the large display box. These are created by clicking the speech bubble icon in the lower right corner (as seen in the image above).
On the profile page, the player can also send and receive private messages from one user to another. The player can also view their friends' list, send friend requests to others, and block users from viewing their account or sending a friend request.
The player can also view their most recent comments and most liked comments, along with the ID of the level they posted the comment on, by clicking the speech bubble with a smiley face inside, which is to the right of the player's profile posts. On some players' profile pages, yellow or platinum badges with a blue or green M on them will be depicted to the left of their username if the player is a Moderator or an Elder Moderator respectively. Both of the features mentioned above were added in 2.11.
In the profile page settings, accessible by tapping on the gear icon, there is an option that will enable to choose who is able to send messages to them (anyone, friends or nobody), and can choose whether or not the player is allowed to receive friend requests from other users. The user can also choose who can see their comment history. YouTube, Twitter, and Twitch accounts can be linked to this profile if deemed.
When you create an account, there will be a delay of approximately 1 day before you can see the statistics of the user page.
Trivia
As of October 10, 2015, profile pages are not displayed correctly if an outdated version of Geometry Dash is used (v 2.0).
There is a bug in which when you friend request someone but then when you close and reopen the game the button changes back, but the request is sent.
A player requires a registered account to comment on user levels as of update 2.1. Previously, registered and unregistered players alike were able to comment on user levels. This was done to prevent spam. It might be changed back in the future.

Players can also show the rest of the community what percentage they got, however, this now makes them more vulnerable to hacking drama.
Back in 2.0, there was a feature inside of the icon changer that you could see the respective account's user ID (a number associated to your account to search up, the older the account, the lower the id).