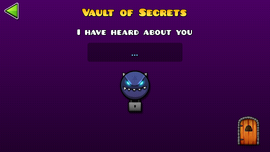 The Vault of Secrets is a secret feature of Geometry Dash and Geometry Dash World, being introduced in Update 2.1. It is located through a padlock in the upper right corner of the directive menu, requiring 50 diamonds to gain access.
Description
The Vault of Secrets contains a text field and a mischievous padlock button below it, going by the name, the Keymaster, although its actual name is Glubfub. Pressing the button will cycle through a series of responses and clear any input in the text field. Entering certain phrases will unlock Icon Kit rewards and secret coins, as well as any related achievements. Hints in the form of green phrases are provided every so often to help guess the codes.
There are currently 9 codes in the Vault of Secrets.
Rewards
Enter the codes stated as captions to unlock the respective rewards. Some rewards require additional steps to unlock.
cod3breaker
Upon entering 'cod3breaker', 6 numbers will appear in sequence, each fading in and out within a second, and must be used to perform mathematical calculations. Each previous term must be subtracted from the following term. For instance, given that the numbers in sequence are 1, 3, 6, 7, 8, 11, the calculations performed would be:
3 − 1 = 2
6 − 3 = 3
7 − 6 = 1
8 − 7 = 1
11 − 8 = 3
The answers to each calculation should then be entered in order as one number. The corresponding code to the above example would then be '23113'.
This unofficially supported program may be used to help.
glubfub
The code 'glubfub' is initially treated as an incorrect response. First, 'sparky' must be entered in the regular Vault. In order to steal the Keymaster's coin, you must first steal Spooky's coin. In order to do this, earn 10 user coins, go to the options menu and tap the top right to enter The Vault. Then, enter "Sparky" to steal Spooky's coin. After that, go to the Vault of Secrets and keep clicking the button until the Keymaster mentions Sparky. Then, go to The Vault again and keep clicking the button until Spooky mentions Glubfub. Finally, go to the Vault of Secrets once more and enter "Glubfub".
The Challenge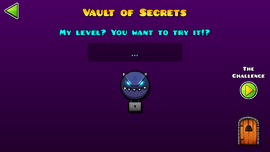 Entering the code 'the challenge' will make a button appear on the right. It gives access to the secret level The Challenge. This requires 200 diamonds to access. Completing the level will then open the door in the lower right corner, giving access to the Basement.
Trivia
Exiting from The Challenge will cause the main theme soundtrack to play instead of the Vault of Secrets theme.
Special codes can be entered which return specific responses.

'robtop': "RUBRUBRUBRUBRUBRUB"
'kappa': "There is no Kappa icon..."
'unicorn': "Why do they have a horn?"
'rubrubpowah123': "Ultimate Haxxor mode enabled. Not..."
Vault of Secrets exchanges
Gallery